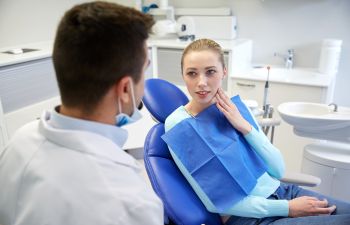 A lot of people don't realize that cavities can lead to more serious dental problems if left untreated.
Cavities are a common dental disease that can be treated with a simple filling. However, if cavities are left alone, they can spread to other teeth or into the tooth's nerve.
Decay should be treated in the early stages, before they have a chance to cause more damage.
Smaller Fillings Are Less Invasive To Teeth
One of the main benefits of getting cavities treated early is that it requires less-invasive treatment. Small fillings are better for teeth and more affordable for your budget.
Prevents Need For Crown or Root Canal
If a cavity is treated early, it can help to prevent the need for a crown or root canal. This is because the cavity will not have had a chance to grow and become more severe.
Regular Checkups Help Catch Cavities Early
Regular checkups allow us to screen for cavities early or even intercept them before the demineralization can turn into decay. This will help to prevent more serious issues down the road and save you money on dental care.
Call At The Earliest Warning Signs
If you have any suspicion that you may have a cavity, it is important to call as soon as possible. Cavities can often be treated early on when you have little to no pain, but if they are left untreated, they can cause significant damage to the teeth.
Symptoms of a cavity can include pain when eating or drinking, sensitivity to sweets, rough edges, and a change in the appearance of the teeth. If you are experiencing any of these symptoms, please do not hesitate to call our office for an appointment.
Call Kennesaw Mountain Dental Associates Today!
If you're experiencing any of the symptoms of a cavity, please make an appointment. We'll be happy to help you get your smile back on track!