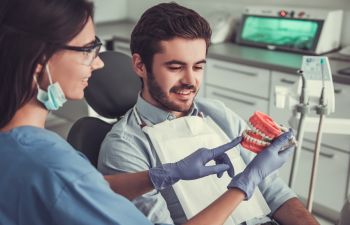 Our Kennesaw patients who have crooked teeth are usually mostly concerned about the way their smile looks. However, having a misaligned smile also raises certain complications that can actually affect your oral health.
Oral Complications Associated With Crooked Teeth
The following are some issues that can develop from having an improperly aligned bite:
TMJ Disorder ー This condition is more common when your bite isn't properly aligned, for instance, when your teeth are crooked and cannot close together properly whenever you're eating, causing you to move your joint irregularly all day every day. You might also experience pain or discomfort.
Broken Dental Work ー When your teeth don't bite together properly, it puts a lot of stress on certain areas of your teeth, which will prematurely damage your dental work.
Worn Enamel ー With irregular pressure points, your dental work isn't the only thing that's at risk. You'll also wear through your tooth enamel (the outermost layer of tooth) causing your teeth to break or look uneven.
Increased Risk Of Gum Disease ー Having crooked teeth can make it difficult to clean certain areas. In turn, you'll usually develop excessive tartar buildup, which leads to gingivitis and gum disease.
Increased Risk of Cavities ー Crowded and crooked teeth are statistically more likely to develop cavities between them compared to teeth that are straight.
Fix Your Crooked Smile Today!
If you have crooked teeth and want to enjoy a healthier, more attractive smile, contact Kennesaw Mountain Dental Associates today. We'll gladly see you for an exam to determine the complexity of your smile needs and develop a care plan that fits your lifestyle.