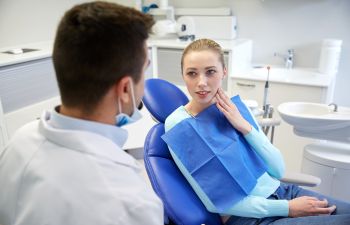 You think you have a pretty big cavity or broken-off edge on one of your back teeth. You know it needs to be fixed, even though it doesn't hurt that bad. The longer you wait, the more it's going to break off. So, you call our Kennesaw dentist to set up an appointment, knowing that you need to do something ASAP.
In your mind, you know you're going to need either a crown or a filling, you're just not sure which one. To better prepare for your visit, here's what you need to know about each one:
Dental Fillings
A filling goes inside of your tooth to rebuild the area that was destroyed by a cavity. But in order to work, it needs to have enough tooth structure around it to keep it in place. If there's less tooth than filling, the restoration won't be able to hold up to everyday biting and chewing.
Crowns ("Caps")
A full coverage dental crown goes over your entire tooth, covering it all the way up to the gumlines. Any remaining tooth structures are completely covered. The crown itself adds a new layer of protection, preventing further tooth deterioration with normal daily use. Crowns are best when more than a third of the tooth's structure is compromised.
You Might Need an X-ray
To make an educated decision about whether a crown or filling is best for your tooth, we may need to take an X-ray to see how deep the damage goes.
Our Kennesaw Dentists are Here to Help
Have questions about your dental care? No problem! Kennesaw Mountain Dental Associates is happy to review your treatment options and discuss any concerns you might have. Call us today to schedule.