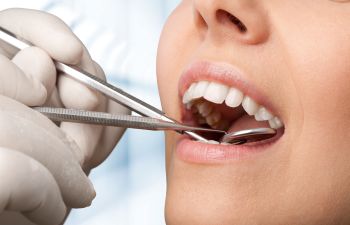 Oral cancer. It's a dangerous and deadly disease, primarily because it can develop in adults of all backgrounds and be difficult to diagnose. In fact, most people will never realize they have oral cancer until it has reached an aggressive stage.
The best treatment for oral cancer is an early diagnosis and intervention. Pinpointing pathological and pre-cancerous tissues can isolate the disease, making cancer therapy more effective and less invasive.
Oral cancer screenings are an important part of every dental exam at Kennesaw Mountain Dental Associates. During the assessment, we'll screen for things like:
Sores that aren't healing
Speckled white or red areas
Tissues that look different than other parts of your mouth
Nodules, lumps, bumps
Sunken-in "craters" in your tissues
Irregular borders or surface tissues
You may be thinking to yourself, "I don't need an oral cancer exam because I don't smoke or use alcohol." While those two factors do raise your chances of oral cancer, they're not the only causes. We now know that certain viral strains — such as HPV — as well as sun exposure can raise a person's risk of developing oral cancer.
As such, we recommend an oral cancer exam on every patient during every recall appointment. The screening can be completed by our dentists and/or hygienists. If we notice any pre-cancerous or suspicious tissues, we can make an appropriate referral for treatment or order a biopsy for further diagnosis.
Getting an oral cancer screening could save your life. That's why they're a crucial part of everyone's checkup visits at Kennesaw Mountain Dental Associates.
When was your last oral cancer screening? If you don't know, it's been too long!