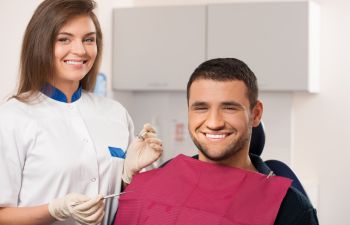 Did you know that approximately 90% of the bacteria responsible for bad breath are on the surface of the tongue?
Your tongue is covered in hundreds of tiny, bumpy extensions called "papillae." Each one can house tiny particles of food debris and bacteria around it, making it possible for odors to harbor in hard-to-reach areas.
On top of that, changes in your oral flora from using specific medications or mouthwashes (like those with alcohol) and seasonal allergies can lead to bad breath.
The best way to combat the source of your halitosis is to discuss your medical history with your dentist and also incorporate a tongue hygiene routine.
How to Use a Tongue Scraper
Tongue scrapers are one of the best ways to clean your tongue. They can be purchased on the oral care isle of just about any drugstore, near the toothbrushes.
To use a tongue scraper, place it at the back of your tongue, press firmly down, and drag it forward toward the tip of your tongue. Take a look and you'll be shocked at what all comes off with each swipe! Use it 2-3 times every time you brush.
Other Sources of Bad Breath
So, what about the other 10% of germs that smell? Those odorous bacteria are typically tucked away between teeth and under the gums. Bottom line, you can't clean them away with brushing. Daily flossing and routine professional cleanings are crucial!
If you're someone who consistently battles halitosis or occasional bad breath, Kennesaw Mountain Dental Associates is here to help. Our compassionate team will offer discreet advice that's tailored to your unique situation. Contact us today to reserve an appointment!