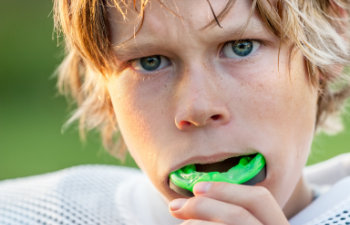 As summer quickly approaches, many people (especially kids) will be taking part in sports and physical activities. While helmets and knee pads are common pieces of equipment to have on hand, one item that is often overlooked is the sport mouthguard.
In fact, dental injuries are one of the most common emergencies that occur during the warm weather months. At Kennesaw Mountain Dental Associates, we urge all of our patients to consider the importance of protecting their teeth with a sport mouthguard this summer.
A sport mouthguard can offer numerous benefits, particularly when it comes to safeguarding your teeth from potential traumatic injuries. During athletic activities, a fall or strong blow to the face can result in broken or chipped teeth, and even dislodged teeth or cause a broken jaw. A well-fitted sport mouthguard will cushion the impact of these blows, greatly reducing the risk of serious dental injuries.
Beyond protecting teeth, sport mouthguards have also been shown to decrease the severity and incidence of concussions. This is because the mouthguard absorbs some of the impact that would otherwise be absorbed by the head, it helps reduce the likelihood of a severe concussion.
While over-the-counter mouthguards can help some, they often feel bulky or fall out easily, failing to protect you from secondary injury. A custom-fitted mouthguard will stay in place, make it easier to wear the whole game, and offer added protection against concussions.
Don't wait until it's too late – contact Kennesaw Mountain Dental Associates today to get fitted for your custom sports mouthguard. Don't let dental injuries or emergencies derail your fun – act today and get fitted for a sport mouthguard!