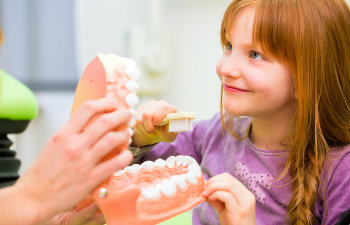 At Kennesaw Mountain Dental Associates, we provide complete dental care for your entire family, including a wide range of children's dental services. By providing prevention-focused, kid-friendly care, we make it simpler for your busy family to access complete dentistry under one roof.
Restorative Dentistry for Kids
A child's teeth can decay at alarming rates if cavities are not addressed quickly. In most cases, we can pinpoint cavities while they're small and place a modest filling in that tooth. For large areas of tooth decay, a protective crown will allow the tooth to function closer to the timeframe it needs to. This restorative step prevents premature tooth loss, which can complicate the eruption patterns of other permanent teeth. It will also help prevent speech delays and dietary concerns.
Preventive Dental Care for Kids
Scheduling a dental checkup for your child every six months helps keep their mouth healthy and allows us to screen for concerns while they're smaller and easier to address. Most children benefit from an exam and cleaning twice a year (and great news, most insurance plans cover these visits at 100%!) We also offer protective dental sealants and fluoride treatments to lower your child's risk of tooth decay.
During your child's checkup, our team will provide age-appropriate oral hygiene tips and nutritional advice so that your child has the tools they need to keep their smile healthy in the years ahead.
It's Never too Early to Get Started
Pediatric dental experts recommend that children see a dentist for their first exam as soon as their first tooth erupts or by their first birthday.
Reserve your child's next checkup at Kennesaw Mountain Dental Associates today!