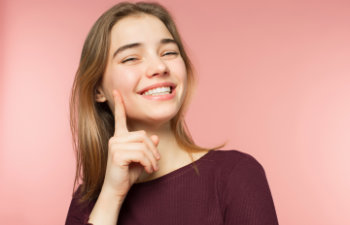 For someone with healthy teeth and gums—who doesn't have active gum disease—the general recommendation is to see our Kennesaw Mountain Dental Associates team every six months for a checkup and cleaning. However, the frequency may vary based on an individual's risk factors.
For example, if you have a teen who is wearing braces, they may have a harder time cleaning around their orthodontic appliances. Scheduling checkups every four months could help prevent issues like gingivitis or white demineralized spots from developing around their brackets.
People with a history of periodontal (gum) disease also benefit from more frequent visits. Most individuals who are recovering from periodontal infections should plan to see their dentist as often as every 3-4 months or at least until their condition has stabilized.
By scheduling a routine exam and cleaning twice a year, we can screen for issues that may have developed between your checkups. This keeps treatment needs to a minimum and preserves your healthy tooth structures. Unless your dental team is concerned with you having a higher risk of tooth decay or gum disease, it's best to plan a checkup every six months.
Take Time for a Healthier Smile
Regular dental checkups and cleans are essential for good oral health, no matter your age. Plan to visit Kennesaw Mountain Dental Associates at least twice a year to keep your smile healthy and address concerns as early as possible. Increasing your frequency of checkups—such as every three to four months—can also be beneficial if you're at a high risk of dental disease or have underlying health issues. No matter how long it's been since your last dental exam, your dental team can help you get your oral health back on track; call today to schedule your next six month checkup!