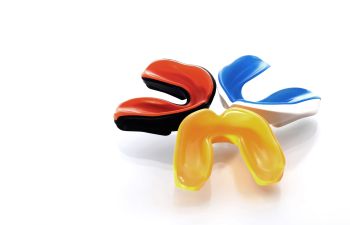 Protecting your teeth from an injury may not be the first reason you think of when buying sports equipment, but it should be! Oral and facial injuries are some of the most common accidents to occur in athletes. A sports mouthguard is a great piece of "insurance" to invest in.
Sports Mouthguards Protect Against Concussions
A quality mouthguard will protect your teeth and jaw from the impact of falls or hits, but when you're playing football, soccer, basketball, or any other contact sport, there's always the risk of sustaining a concussion. A well-fitted mouthguard can cushion the blow to your jaw and help to keep your brain protected as well!
What is the Best Sports Mouthguard to Wear?
Custom fitted mouthguards offer better protection and comfort than stock guards you'll find in stores.  A custom guard is designed specifically for your teeth, fits snugly into your mouth, and doesn't inhibit hydration or breathing during your activity. But most importantly, a custom fitted appliance will stay in place when you need it to the most (whereas a stock guard could fall out and fail to protect you properly.)
Who Should Wear a Sports Mouthguard?
Any athlete who plays sports, from soccer to football to basketball, should wear a mouthguard. If you run the risk of a hit to the face or a blow to the head, a sports mouthguard is a smart investment. This applies not only to young athletes, but also to adults who participate in recreational activities. Even if it's a solo sport like biking.
Request an Appointment
Kennesaw Mountain Dental Associates can fit you or your child with a custom sports appliance, with options to match your team's jerseys or favorite colors. Contact our office today to reserve an appointment.