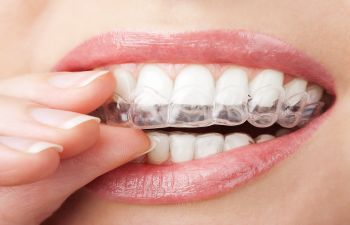 Are you ready to achieve the bright, healthy smile you've always wanted? Are you curious about Invisalign? This non-invasive, modern alternative to metal braces is a great choice. But will it fit your needs? It could, and Kennesaw Mountain Dental Associates can help you decide if Invisalign is right for your smile makeover.
What Is Invisalign?
These clear braces systems use removable aligners that are custom fit to your teeth. Worn as directed, they gently move your teeth into the ideal position over a specific period of time.
Invisalign is considered one of the most conservative, comfortable, and aesthetically pleasing way to straighten your smile! Plus, it can treat a wide variety of issues, including crowding, gaps, and crooked teeth. Best of all, it's translucent and practically invisible over your smile.
Safe Treatment in Less Time
Invisalign aligners are worn daily, but you can remove them for eating, brushing, and flossing. Depending on the severity of your bite misalignment, the average treatment time with Invisalign is about 12 months. But can range from 6-24 months in certain cases. At Kennesaw Mountain Dental Associates, we can provide you with an estimated timeframe during your initial consultation.
Whiten Teeth During Invisalign Treatment
As you go through the process of aligning your smile with Invisalign, you can also whiten your teeth at the same time. A valuable advantage of wearing aligners is that you can brighten your teeth at home, or opt for an in-office procedure for the quickest results. Kennesaw Mountain Dental Associates offers safe and effective tooth whitening services to take years off your enamel. Pairing it with Invisalign is a fast, affordable way to transform your entire smile.
Is Invisalign right for you? Call today to reserve a consultation.