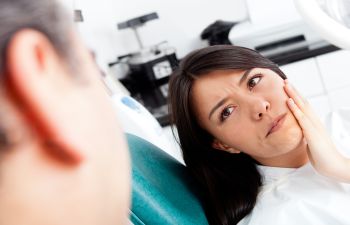 While there is a growing emphasis on preventative dentistry and a greater awareness of dental-related conditions, most individuals are not sure when and if they need emergency dental care. What's more, dental emergencies seem to happen at the most unsuspecting times and places. In any case, the team at Kennesaw Mountain Dental Associates wants you to know—never neglect a mouth-related injury or put up with dental pain longer than you have to. As a trusted emergency dentist, Dr. Hamir Contractor is uniquely equipped to handle your dental emergency when you need it the most.
Dental emergencies vary in regards to pain and the way in which they impact one's well-being. Though many imagine that a true emergency would elicit excruciating pain, such is the case with a knocked out tooth, some do not. However, these "injuries" shouldn't be ignored. An example is a chipped or broken tooth, as well as a lost filling or dental crown. In these instances, an individual may not experience any pain, but this doesn't mean that their oral health is not at risk. The same is true for a toothache that is gradually becoming more persistent and aggravating.
Are You Experiencing Any Of The Following?
Severe tooth pain or infection, including a bad taste in your mouth
Bleeding and/or swelling of the gum tissues or jaw
Injury to your teeth and/or gums
Lost or cracked filling
Broken, dislodged or knocked-out tooth
Dental crown that has broken or loosened
Trusted Emergency Dentistry In Kennesaw
If you are experiencing any of the above-mentioned problems, Dr. Contractor and the compassionate team at Kennesaw Mountain Dental Associates encourages you to call us right away. While we are confident in our ability to ease your pain and provide superior restorative treatment, it is always best to assess concerns as early as possible. Best of all, you deserve peace of mind when it comes to your oral health.