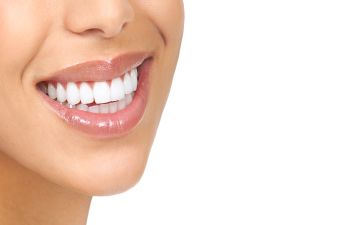 It's no secret that appearance and beauty have always been an integral part of American culture. As such, individuals are challenging stereotypes when it comes to getting older, vowing to age beautifully, not gracefully. Dental Economics explains that this change in attitude is reflected by the boom in plastic surgery, along with the request for cosmetic dental procedures. After all, the smile is considered to be a one of the most important social assets and cosmetic dentistry provides reasonable and affordable alternatives.
Teeth Whitening
As the most requested cosmetic dental treatment, teeth whitening is an attractive option, with the power to lighten teeth up to nine shades! However, it's important to consult a dentist when it comes to obtaining your brightest smile. While there are numerous over-the-counter whitening solutions, gels, pastes and strips are not always the best (or safest) method.
Porcelain Veneers
Porcelain Veneers are an excellent cosmetic option for individuals that are unhappy with the appearance of their smile. A veneer is a porcelain shell that is customized to fit over the contour of a tooth in order to correct worn enamel, chips and cracks or severe discoloration that doesn't respond to teeth whitening.
Clear Orthodontics
With great innovations in orthodontic therapy, clear aligner systems like Invisalign and ClearCorrect are popular solutions that are barely noticeable. As such, these systems are increasing in popularity, particularly among teens and adults.
Dental Implants
Providing superior strength, durability and aesthetic appeal, dental implants are a top of the line cosmetic procedure. What's more, a dental implant offers patients with tooth loss a permanent solution, as the implant is surgically placed in the jawbone. With time, the titanium-based implants fuse with bone in the jaw.
Cosmetic Dental Care in Acworth and Woodstock
For trusted cosmetic dental care in Acworth and Woodstock, Kennesaw Mountain Dental Associates offers a complete menu of services led by experienced cosmetic dentist Dr. Hamir Contractor. From teeth whitening to dental bonding, shaping, porcelain veneers and more, our team is committed to helping patients achieve the bright, healthy and youthful smile that they deserve.
Call Kennesaw Mountain Dental Associates today!