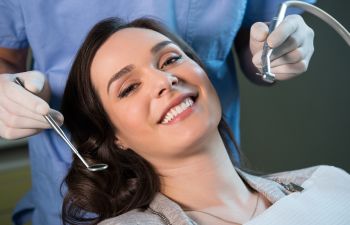 During your six-month dental cleanings, one of the things that's happening is careful removal of tartar buildup across your teeth. Sometimes tartar is visible, just along the gumlines. Other times it isn't (because it's tucked just below the edges of your gum tissue.)
But one thing is for certain: tartar contributes to bone loss, tissue detachment, and bad breath. It harbors bacteria that contribute to gum disease. Having it cleaned off routinely by your dental team is essential to keep your gums and teeth healthy for a lifetime.
Tartar is Calcified Dental Plaque
Dental plaque biofilm is the sticky, white residue that accumulates on your teeth throughout the day. It's the result of your body's natural flora breaking down food particles and leaving waste byproducts as a result. If those byproducts aren't physically stimulated and removed each day (with a toothbrush and floss) they start to calcify. Essentially, they become hard, rock-like structures attached to the surface of your teeth. Once it's calcified, tartar can only be removed by your dentist or dental hygienist. Do not attempt to clean it off on your own!
Tartar can be light yellow, brown, or black in color. It tends to be heaviest along the gums near your major saliva glands just behind your lower front teeth, as well as the cheek-side surfaces of your upper back teeth.
Some people tend to form tartar more quickly than others. Everyone is different. But disrupting plaque buildup before it's had 24-hours to calcify is the most essential step in tartar prevention.
Due for a Dental Cleaning?
If you have visible tartar buildup, bleeding gums, or bad breath, call Kennesaw Mountain Dental Associates today to reserve an appointment.