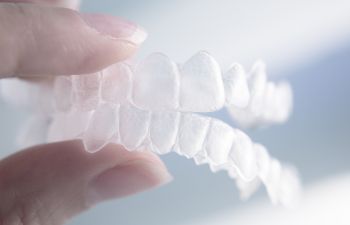 There are many perks of investing in Invisalign. Choosing Invisalign has many benefits that are outlined below.
Next to No Impact on Your Lifestyle
From eating your favorite foods to brushing and flossing, these removable clear braces don't have to impact your daily routine. Simply remove them during meals or while cleaning your teeth, then put them back in for the rest of the day.
Low Profile (and Practically Invisible)
You really can't see Invisalign unless you're looking extremely close-up from a few inches away. Thanks to the added "cushion" of social distancing, your friends and coworkers probably won't be able to see them at all. The translucent design is nearly invisible.
No Irritating Wires or Brackets
There's a bit of a "learning curve" when it comes to living with braces. But not so with Invisalign. The smooth design eliminates the rubbing of irritating appliances and talking with your trays in place doesn't require extra practice. It's a comfortable experience, thanks to the custom-fitting streamline trays.
Fewer (and Shorter) Trips to the Dentist's Office
Invisalign at Kennesaw Mountain Dental Associates is easy to fit into your schedule. Since there aren't wires to adjust or bands to change out, you can progress your treatment in the convenience of your own home. Just swap out your trays as prescribed (usually every two weeks.) We'll arrange to have you stop in for a brief check every two months or so to make sure your progress is moving along as it ought to.
It Facilitates Healthier Teeth
Straightening your bite helps to statistically cut down on the risk of getting cavities and periodontal disease.
Invisalign could be the key to a confident, beautiful smile. Call Kennesaw Mountain Dental Associates today to find out if you qualify.