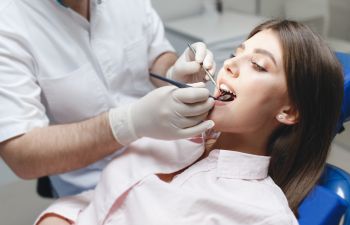 A dental abscess can be best described as swelling and pus that forms inside a tooth or begins to drain through the surrounding gum tissues. Most of the time, an abscessed tooth is fairly obvious. You can see the fistula (pimple) forming on the gums at the root of the infected or dying tooth. These abscesses can be quite painful and an obvious indication that something is wrong. Abscesses do not go away on their own. If you think you may have an abscess, it's important to schedule an appointment at Kennesaw Mountain Dental Associates right away.
What is an Abscess and What Causes It?
An abscess occurs when a severe infection develops in or around the root of the tooth. It can be from bacteria, injury, or untreated decay. There are two types of abscesses that can form:
A Periapical Abscess – This type of abscess is the most common and what causes the fistula/pimple drainage on your gums. It is caused when decay is not treated or there is a large crack in the tooth. This allows bacteria to make its way into the nerve chamber and spread through the root tip. This can cause intense pain and is best treated with a root canal.
A Periodontal Abscess – This type of abscess is caused by gum disease. When gums become irritated and swollen due to heavy tartar build-up, the gums pull away from the tooth, destroying bone support throughout the process. This allows the bacteria to collect under the gums and cause an abscess to form.
In Pain? Call Today
If you have a toothache or abscess, call Kennesaw Mountain Dental Associates. We'll work to develop a treatment plan to get you out of pain and save your smile.