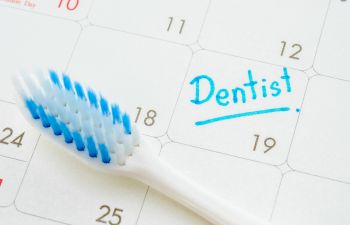 Routine dental checkups and cleanings are a vital part of your oral health. Preventative care helps to maintain healthy gums and teeth and reduces the chances of cavities, gingivitis, and tooth loss. It can be difficult to know when to schedule your appointments, so this is what we at Kennesaw Mountain Dental Associates recommend:
Every 6 Months
Typically, every 6 months is when you would book an appointment for your exam and cleaning. Visiting a dentist regularly allows us to monitor the health of your teeth and gums. Exams every 6 months let the dentist assess your x-rays to see if there are any issues that might need to be addressed while they're still small.
Every 3-4 Months
If you have been diagnosed with or treated for gum disease, you might need a cleaning every 3-4 months. Your gums can become inflamed and slightly detached from the tooth as gum disease advances. Routinely cleaning away plaque and tartar from underneath the gums will help prevent additional tissue detachment. It can take a few visits to get your gum health back to health, so coming in to see us more often may be needed for a while.
In an Emergency
Are you experiencing severe tooth pain? Don't ignore it. This may not happen often, but if it does, be sure to contact us right away. One of our dentists will see you and get to the source of the problem and get you out of pain as quickly as possible.
Kennesaw Mountain Dental Associates are happy to treat your entire family. Give us a call today to schedule your next check-up and cleaning.