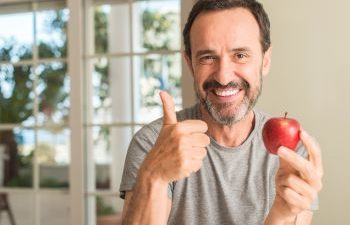 Most often when we think of our teeth, our minds are instantly drawn to their appearance. How our teeth look plays an important role in how we feel, but so does how they function.
We don't spend a lot of time thinking of the part healthy teeth play in our day-to-day lives until we're forced to. Dental implants are the first option today's dentists choose when restoring missing teeth
Here are four reasons why:
1. Better Function
Implants are strong and durable so they afford you better function while eating. You won't have to avoid chewing on certain sides of your mouth because a tooth is missing. Since implants are anchored into the bone, you don't need to worry about them being able to withstand the forces of biting or chewing. So go ahead, eat what you want to eat, implants can handle it!
2. Improved Speech
Missing teeth can cause issues with the pronunciation of some words or even slurred speech. Replacing missing teeth with implants will improve your speech without the time it takes for you to adjust to dentures.
3. Retention of Bone Density
With a tooth missing from its place, the bone in that area may begin to shrink. When implants are placed, the post acts as a natural tooth root and keeps the bone around it solid and strong.
4. Stability
Implants look and function as your natural teeth would. You won't have to worry about them shifting out of place like some other prosthetic appliances. Once they are in, they're in, and you can go about your day without having to think about them at all.
If you are considering dental implants, contact Kennesaw Mountain Dental Associates. We can help you determine if implants are the right choice for you.