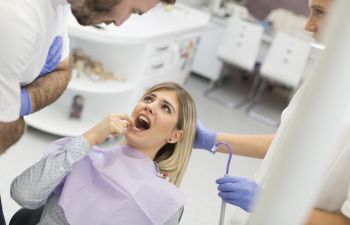 Now that it's officially "holiday season" we're wedged somewhere between leftover Halloween candy, Thanksgiving pies, Christmas cookies, and whatever your New Year's Eve traditional snacks are. Usually we think about how bad the calories are on our waistband, but what about our teeth?
If you're looking for safe, tooth-friendly snacks to add to your plate over the holidays, here are a few ideas:
Pumpkin Pie, Cheesecake, Pudding — These softer desserts are safe on your dental work. Try to eat them right after a meal then rinse your mouth out afterward, minimizing the length of sugar exposure on your teeth.
Anything Chocolate — It melts in your mouth, so there's not much left on your teeth after you eat it. Milk chocolate is great, but dark chocolate is even better. There might even be some antioxidant benefits!
Baked Goodies — Gingerbread, cookies, brownies – you name it. Anything that's soft and doesn't have hidden nuts or sticky items inside of it probably won't be an issue. Again, enjoy them in one sitting rather than snacking on them frequently throughout the day. The more often there the food exposure on your teeth, the higher the plaque and cavity risk there is.
What to Avoid
Anything hard, sticky, or too crunchy (think caramel, toffee, peppermints, and anything with nuts) can potentially break your tooth or pull out dental restorations like crowns or fillings. Proceed with caution. Plus, be sure to thoroughly brush and floss later in the day to remove any of the sticky residue that's left over from hours prior.
Dental emergency over the holidays? Call Kennesaw Mountain Dental Associates for attentive, compassionate care you can trust.