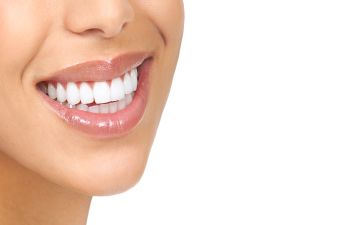 Our teeth are naturally porous. The enamel alone is covered in thousands of tiny openings called "tubules." As you might guess, the tubules can house stain particles that wind up making your teeth look darker. If you already have naturally dark enamel, additional staining may make your teeth look older than they really are.
Drink Through a Straw
Since so many of the stains in our teeth are caused by liquids, it helps if you prevent those liquids from touching your tooth while you're drinking them. Keep a reusable straw on hand and all of those dark liquids will fly right past your top front teeth.
Rinse with Water Regularly
Did you just treat yourself to a tall glass of iced tea? Another cup of coffee? If you're not able to go brush your teeth, at least take a moment to rinse your mouth with some water. Doing so will lift some of the stain-causing particles before they have a chance to soak down into your enamel.
Whiten (or Touch Up)
Professional teeth whitening is the fastest and most effective way to remove stains and enhance natural tooth shades. If you've already whitened in the past, we recommend touching up after your routine cleanings. 
Schedule Regular Dental Cleanings
Getting your teeth cleaned every six months means having a chance to polish away any new stains that developed since your last checkup. Plus, we'll remove calcified tartar deposits that also attract stain particles.
If it's been six months or longer since your last cleaning — or you're interested in a professional teeth whitening treatment — call Kennesaw Mountain Dental Associates today to request an appointment.