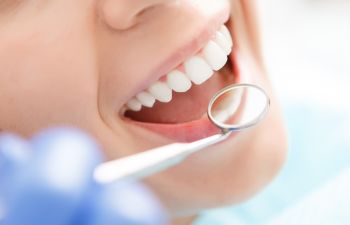 February is the month for dozens of roses and pounds of chocolates. The flowers are beautiful to look at and lovely to smell, and the chocolates, well, this is the perfect month for chocolate lovers. With all that sugary sweetness and gooey deliciousness serenading your mouth, it is also the perfect month to have your teeth checked.
He Said, "She Has a Lovely Smile"
Make sure it is a true statement by flossing and brushing correctly. Brushing alone will not keep gingivitis or cavities from forming. Bacteria buildup between teeth can cause both. Flossing helps clear away the plaque that forms between the teeth and gets those bits that brushing leaves behind.
Cavities start as tiny holes on the surface, and they get bigger with time as acids eat away at precious tooth enamel. Those areas between teeth are particularly vulnerable since toothbrush bristles cannot reach them. Floss, moved up and down the sides of the teeth, removes food debris and plaque. Remember too, the best way to ensure that your teeth stay healthy is to have an annual dental checkup and professional cleaning.
She Said, "I Love His Pearly Whites"
Did you know that whitening your teeth can actually help you look younger? Teeth whitening is the most common cosmetic dental treatment performed worldwide. It can make a huge difference with minimum expense. But should you do it on your own, or get it done professionally?
Stores are full of home teeth whitening kits and toothpastes. Some are more effective than others. While an over-the-counter kit may whiten your teeth to some degree, there are advantages to having your teeth whitened professionally.
When your teeth are whitened professionally, you know the process is safe and monitored. You also know the products used are going to produce the best results. You have none of these assurances with over-the-counter kits.
If it has been a while since you have had your teeth checked, show them a little love this month by calling Kennesaw Mountain Dental and scheduling a comprehensive dental exam. Ignore your teeth and they will go away. Show them some love and they will stay.