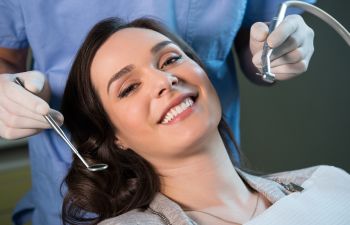 While it's not recognized as a dental specialty, the aim of restorative dentistry is to make one's oral health right again. Thus, it involves identifying oral health problems and correcting them so that a patient can obtain the proper function and appearance of their teeth. Whenever possible, this involves preserving a patient's natural teeth.
For the most part, dentists perform restorative dental procedures under the umbrella of general dentistry. Some of the most common restorations are dental fillings, dental veneers, crowns, bridges, dentures and dental implants.
Dental Restorations: Direct or Indirect?
Oral-Bclassifies the types of dental restorations—direct and indirect. As the more conservative type, a direct dental restoration might include placing a dental filling into a prepared tooth cavity during a single office visit. Thus, filling material and strategy are determined on the spot.
On the other hand, indirect dental restorations involve a bit of planning, as these procedures include customized tooth replacements such as dental crowns, inlays or onlays. While a crown covers the entire biting surface of a tooth, an inlay fills in the space within the cusps of a tooth. An onlay covers the cusp tip and a portion of the chewing surface, if necessary. Depending on the structural stability of the tooth that is being restored and the oral health of the patient, there are a number of materials that will provide the level of durability and function needed. In fact, plastic and glass may be added to standard materials to improve sustainability.
Even for the most committed dental patient, a number of scenarios can cause teeth to become damaged, making it necessary to seek restorative dental care. Thus, in order to make things right again, a skilled dentist is needed to determine the manner in which to repair teeth, as well as which type of dental restoration is best.
Reliable And Comfortable Restorative Dental Care
At Kennesaw Mountain Dental Associates, Dr. Hamir Contractor and the team invite you to experience reliable and comfortable restorative dental care using the latest methods and technologies. Call today!