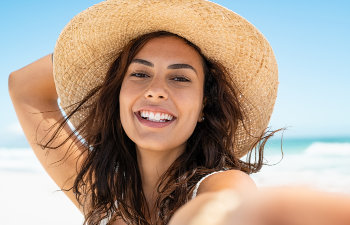 At Kennesaw Mountain Dental Associates, we believe that a bright, confident smile is your best accessory. If you're considering a teeth whitening treatment, professional strength products offer amazing results in the least amount of time.
Why Choose Professional Teeth Whitening
While over-the-counter teeth whitening products may be tempting, they aren't as strong or effective as professional teeth whitening gels. Professional whitening treatments provide more even results, while the concentrated gels penetrate deep-set stains. And since your treatment is applied by a professional, it minimizes the risk of tooth sensitivity and gum irritation.
Yes, commercial kits can whiten your teeth by a few shades in 1-2 weeks. But you have to buy a new kit every time you want to touch up. Professional systems brighten your teeth even more. And if you're using a take-home kit, long-term maintenance is extremely affordable.
Types of Teeth Whitening in Kennesaw
At Kennesaw Mountain Dental Associates, we offer two main types of teeth whitening options:
In-Office Teeth Whitening: Get whiter teeth in about an hour. During your appointment, our team will apply a special whitening gel to your teeth and use specialized equipment to accelerate the stain-release process.
Take-Home Whitening Trays: If you prefer a more gradual approach, we can provide custom-made whitening trays and professional-grade gel to use at home. This option gives you more control over managing tooth sensitivity as well as long-term maintenance. Just touch up as needed (we usually recommend after your routine checkups.)
Schedule Your Consultation Today
Ready to take the first step towards dramatically brighter teeth? Schedule a consultation with Kennesaw Mountain Dental Associates today to discuss your teeth whitening options.