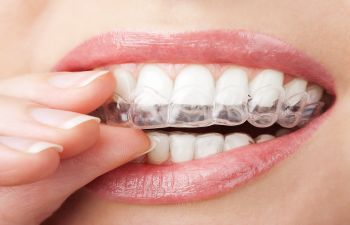 Having straight teeth isn't all about aesthetics. Sure, healthy and aligned teeth tend to be more attractive. But they're also less prone to issues like tooth decay and gum disease.
Since crowded teeth typically harbor a larger amount of bacterial plaque around them (even if you're brushing and flossing every day), they tend to develop periodontitis at a much higher rate than teeth that are straight.
This leads us to the next problem: periodontitis directly increases your risk of medical problems like:
Heart attack
Stroke
Diabetes
Infertility (both men and women)
Pneumonia
Erectile dysfunction
High blood pressure
Improve Your Oral Health with Invisalign
When you think about it, improving your dental wellness with orthodontic treatment isn't all that much of a stretch. By having straighter teeth, you can statistically reduce your chances of getting cavities and gum disease. And when you don't have gum disease, your overall health benefits as well.
Aligned teeth are easier to clean. Plain and simple. And with Invisalign, your oral hygiene routine is a breeze. Simply remove your aligners, brush, and floss as normal, then put them back in your mouth. There aren't any extra wires or brackets to try to clean around.
Investing in a straight smile boosts your dental health, overall wellness, plus it improves the way your smile looks as a whole. It's a win-win. And since Invisalign was designed with adults in mind, you can feel confident knowing that you're never too old to finally enjoy a straighter set of teeth.
Invisalign Consultations
Is Invisalign right for you? Call Kennesaw Mountain Dental Associates today to reserve an exam and consultation.