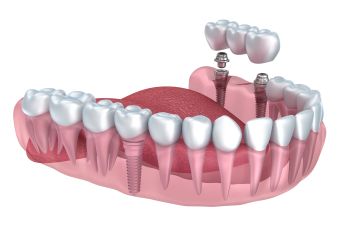 When you're getting ready to replace a missing tooth, two of the best options to pick from are dental implants and bridges. Both are safe and effective, but they have different benefits to offer. Which one is best for you?
Dental Bridges
Dental bridges are one of the most popular tooth replacement restorations. Since they're permanently attached, there's no removable device (such as a partial) to take out at the end of the day. Essentially, bridges are 3-4 crowns fused side by side, with the crowns on either end attaching on top of a healthy supporting tooth, with artificial crowns being suspended across the open "gap" in your bite. The one drawback of bridges is that you have to alter the shape of the supporting teeth. But if those teeth already needed crowns to begin with, that's usually not an issue. Bridges can also be placed on top of dental implants.
Dental Implants
Dental implants are the only tooth replacement treatment that is non-invasive to your surrounding teeth. Since they mimic the function of a natural tooth, you're essentially preserving adjacent teeth as you replace the one that's missing. Plus, their integrity means you're not limited to the number of teeth you can replace at one time. As few as four implants can support a full-arch restoration.
Need Help Choosing?
The team at Kennesaw Mountain Dental Associates is happy to answer any questions you may have. As we evaluate your unique oral anatomy, we'll offer our guidance on the best tooth replacement treatment for your smile and lifestyle. There's zero pressure. You play a key role in co-planning your care!
Contact Kennesaw Mountain Dental Associates today to reserve your next appointment.