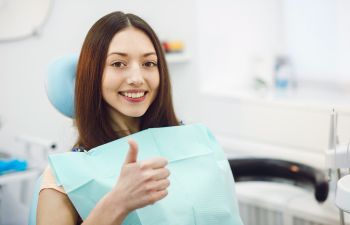 This is the time of year when people reflect on the many things for which they are grateful. While your general health may be on the list, have you considered your oral health specifically? A healthy smile is not to be taken for granted. It takes time and care to achieve and maintain good oral health, and it is an important factor in maintaining your general health, too.
Healthy Mouth, Healthy Body
Ongoing studies are being conducted to define the links between oral heath and general health. So far, there seem to be connections between oral health, gum health in particular and such serious illnesses as cardiovascular disease, stroke, diabetes type 2, premature birth and low birth weight. Even though the data is not yet considered conclusive, it makes sense to maintain your best oral health.
When you consider the consequences of poor oral health, such as gum disease, dental decay, tooth loss and all the problems those issues present, taking good care of your teeth and gums should be a priority. Regular dental checkups should also be a priority. Your dental team not only helps you maintain a healthy mouth, your dentist can help you get the perfect smile.
Smile for the Holidays
Your best smile contains healthy teeth and gums and it looks fantastic. If you have missing teeth, natural-looking artificial replacements fill in the gaps. Cosmetic dentistry can take care of badly stained or discolored teeth. It can also completely renovate your smile if the smile you have leaves something to be desired. An appealing, healthy smile leads to self-confidence and better self-esteem.
Do not take your oral health for granted this holiday season. Give thanks for your healthy smile and make a commitment to maintain it. Go easy on the sweets, brush and floss regularly and eat plenty of healthy foods. Schedule your annual dental checkup if you have not already done so. Enjoy the holidays and be thankful for your oral health.