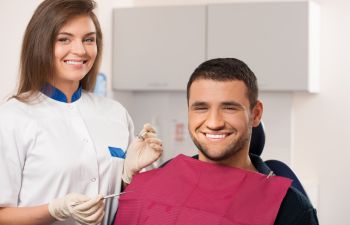 There are a variety of memes about smiling: giving them away, sharing them with others and brightening someone's day. There are proven health benefits from smiling that make it a practice you may want to adopt if you haven't already.
Lower Your Blood Pressure
Smiling and laughter can lower your blood pressure and help reduce your risk for heart disease. When you laugh, your heart rate increases at first, then the muscles relax. Next, the heart rate decreases and blood pressure is reduced. Heightened blood pressure is often the result of stress, and smiling may reduce the amount of stress you feel.
Relieving Stress Through Smiling
Regardless of whether you feel happy or not, smiling often increases the body's ability to handle stress more effectively. The psychological and physical health benefits produced by smiling your way through a stressful situation or activity can make a big difference in how you feel and how you handle the situation.
Boosting Your Immune System and Relieving Pain
Laughter begins with a smile. When you laugh, your brain releases chemicals that aid in fighting stress and illness. You have probably heard the saying, "Laughter is the best medicine." Research supports this anecdote. Smiling and laughing releases the body's natural pain killers.
The Benefits of a Healthy Smile
Though smiling has a long list of health benefits, only a few of which are listed here, some individuals are missing out because they do not feel good about the appearance of their smile. A healthy smile is important for oral health and overall well-being. If your smile is not what you would like it to be, let your dentist help you get it healthy and looking good.
Do not miss out on the health benefits of smiling and laughter due to bad or missing teeth. There is a solution for every dental problem that may be keeping you from letting your smile shine through. Smiling and laughter can contribute to a longer life, so get your smile in shape and share it with the world.