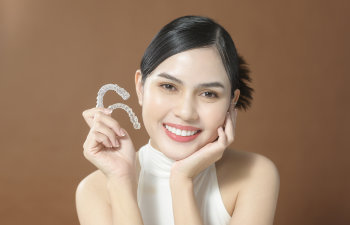 A straight, confident smile can work wonders, boosting your self-esteem and improving your oral health. That's why Kennesaw Mountain Dental Associates proudly offers SureSmile Clear Aligners as a top-tier orthodontic solution for adults and teens.
Cutting-Edge Technology
SureSmile Clear Aligners utilize state-of-the-art software to create custom aligners that guide your teeth into a prescribed position. Using 3D imaging, our Kennesaw dentists will map out your treatment plan with unparalleled precision, ensuring your SureSmile experience is as efficient as possible.
Aesthetically Pleasing
Say goodbye to metal braces and embrace the discreetness of SureSmile Clear Aligners. The clear, nearly invisible design allows you to straighten your teeth without drawing unnecessary attention to your teeth.
Enhanced Comfort
SureSmile Clear Aligners are gentle on your mouth. Crafted from smooth and BPA-free materials, these aligners are custom-made to provide the perfect fit, minimizing any discomfort often associated with traditional braces.
Removable Convenience
One of the most significant advantages of SureSmile Clear Aligners is that they can be removed when necessary. This makes eating, brushing, and flossing extremely easy.
Predictable Results
With SureSmile aligners, you can enjoy the benefit of knowing what to expect. Before your treatment even begins, our cutting-edge software will give you a virtual representation of what your smile should look like after treatment, before the aligners are even made.
Schedule Your Consultation
If you're looking for a discreet, comfortable, and effective way to achieve a stunning smile, SureSmile Clear may be the right choice. SureSmile is a popular alternative to Invisalign braces providing you with a similar experience at a lower price. Contact Kennesaw Mountain Dental Associates today to schedule your consultation and take the first step towards a healthier smile.