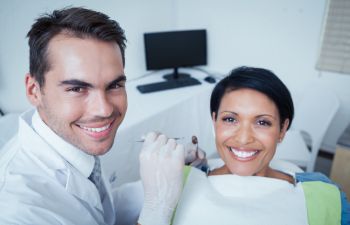 When a tooth has been damaged by decay, dental professionals restore teeth back to their normal shape and function with a dental filling. In essence, the dentist begins by removing the decayed portion of a tooth. Next, he or she cleans the area of infection before filling it with a protective material. The purpose of placing a dental filling is to prevent continued infection and to create a barrier against bacteria. Yet, when it comes to dental filling materials, there are several options to restore teeth. Colgate lists the following: gold, porcelain, composite-resin or tooth-colored fillings, and amalgam (a blend of several metals).
The question becomes, which filling material is best? The truth is—the right dental filling material depends on the extent of damage to one's tooth, along with where the filling needs to be placed. Cost is also a consideration, as some materials are remarkably more expensive than others. What's more, if a tooth has become fractured by decay, a dental filling might not be the best restoration. In this case, a dental crown may be recommended. With this in mind, only a qualified dentist can determine which treatment is best, and if a dental filling can benefit your oral health.
Painless Dental Fillings
When it comes to restoring the form and function of teeth that were once decayed or infected, Dr. Hamir Contractor and the team at Kennesaw Mountain Dental Associates wants patients to know—dental fillings do not have to be stressful or uncomfortable. Dr. Contractor utilizes the latest in sedation dentistry and/or local anesthesia when needed to provide patients with painless dental fillings.
Our practice is pleased to offer natural colored dental fillings that are comprised of porcelain and high quality composite resin that closely resembles a patient's natural tooth color. This allows us to correct a patient's oral health concern without affecting their confidence and the appearance of their smile.
If you've been told that you need a dental filling, or if you suspect that you have a cavity, contact Kennesaw Mountain Dental Associates today. We're happy to provide you with options for dental fillings that suit your time and budget.