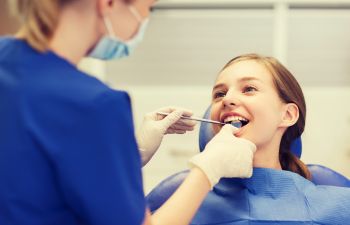 As the parent of a teenager, you may wonder if your child will need to have their wisdom teeth, or third molars, removed. This treatment isn't necessary for all young adults, however, there are three main reasons why you may want to consider planning your teen's wisdom tooth extraction surgery at our office in Kennesaw.
#1: Wisdom Tooth Pain
The most common reason why you'll want to have your teen's third molars removed is because they can cause severe and persistent pain as they develop and try to break through the gum tissue. Some of that discomfort may be due to an infection.
#2: Lack of Room
Some mouths don't have enough room for third molars to grow in completely, or they try to come in sideways. Leaving those teeth partially erupted can cause other problems later on.
#3: Better Oral Health
Even if your teens wisdom teeth do grow in completely, the chances of your child being able to reach their third molars to keep them clean is pretty slim. Wisdom teeth often end up decaying, simply because they are too difficult to reach; cavities even spread to the adjacent teeth. Irritation and inflammation of the gum tissue surrounding wisdom teeth is a common occurrence.
The Right Time To Schedule Wisdom Tooth Extraction
If you have a teenager or college student, be proactive and go ahead and schedule a wisdom tooth extraction consultation with Kennesaw Mountain Dental Associates. Doing so will prevent your child from having to deal with the headache of third molars. We can recommend the perfect time to schedule your child's oral surgery, if applicable.