Porcelain Veneers
If you weren't born with a Hollywood smile, you are certainly not alone. Many people suffer from dental imperfections such as gaps, discoloration, chips and misalignment. However, your smile is one of your most powerful assets, and its appearance plays a vital role in your self-esteem. That's why we offer porcelain veneers at Kennesaw Mountain Dental Associates, an advanced and highly preferred solution that can instantly give you the smile you've always dreamed of. Dr. Contractor understands the careful blend of artistry and skill that it takes to create ideal results in cosmetic dentistry. By choosing dental veneers, we can address all types aesthetic concerns, including:
Discolorations
Gaps and spaces
Chips
Misshapen or disproportioned teeth
Crooked teeth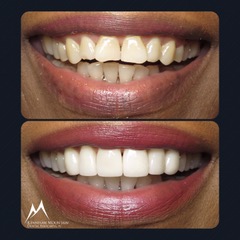 Cosmetic Dental Veneers
Cosmetic dental veneers involve the placement of a wafer-thin shell of porcelain on the front surface of your tooth. They are solely used for cosmetic purposes, so only the front, visible teeth of your smile are treated. To ensure the veneer bonds securely to your tooth, it is necessary to shave a small portion of the outer tooth layer before placing the veneer.
Dental veneers typically require just two short office visits. Each veneer is custom crafted to achieve your goals and provide a natural and seamless blend within your smile. Veneers are also stain-resistant and durable enough to withstand everyday dental function. For most patients, getting cosmetic dental veneers is a life-changing decision, as a white, balanced and attractive smile can affect how patients feel about themselves as well as how others perceive them.
What would you change about your smile? If you have stubborn stains that teeth whitening won't reverse or wide gaps between your teeth that bonding is unable to fix, consider a smile makeover with porcelain veneers. At Kennesaw Mountain Dental Associates, we make it easy to improve your smile. Contact us today to schedule your consultation.