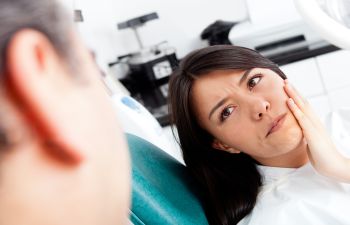 From a toothache to pain in the jaw, or sudden pain from a blow to the face, dental emergencies come in all shapes and sizes. Thus, how do individuals know that they have a true dental emergency? When should they call the dentist right away, and when is it okay to wait?
While many dental emergencies involve a cracked, broken or knocked out tooth, there are a number of instances in which it might be difficult to determine if immediate attention is needed. A few are explained below.
When you have a loose tooth: If you are an adult, and your tooth is loose, there are generally two reasons why: injury or infection. In either case, it's very important to contact the dentist immediately. Often, damage to teeth, gums and even nerves do not cause symptoms right away. Yet, it's too risky to wait.
When you have a severe toothache: While individuals can live with some degree of pain or occasional discomfort in a tooth, a severe toothache is a reason to see a dentist immediately.
When your gums are bleeding and aching: Though not considered "normal," gums sometimes bleed after brushing or flossing. This could be a sign of over-aggressive brushing or early stage gum disease. Yet, if bleeding is consistent or recurring, and gums are aching or throbbing, it is very important to contact the dentist for an examination.
When your jaw is swollen: A swollen jaw can happen overnight or slowly over time. In essence, this might occur due to a blockage in a salivary gland, or from clenching or grinding the teeth. In either instance, it's important to contact your dentist, especially if you're experiencing a bad taste in your mouth, fever, or trouble breathing or swallowing.
When you have a dental abscess: Symptoms vary when it comes to a dental abscess, yet one thing is certain-they are a reason to seek emergency dental care. An abscess is a strong indicator of infection, and can cause excruciating pain if left untreated.
When your tooth is numb: Suppose you've experienced tooth pain for awhile, and you discover that you suddenly do not feel anything at all. This could be a sign that the tooth's root has been affected by an infection or abscess. Without question, it's important to contact your dentist right away if your tooth becomes numb.
Trusted Emergency Dental Care In Kennesaw
If you or a loved one is experiencing a dental emergency in Kennesaw or a surrounding area, you can rely on the experienced team at Kennesaw Mountain Dental Associates. By addressing your dental concerns in a timely manner, we can relieve your pain and work to restore your oral health. For trusted emergency dental care, call Kennesaw Mountain Dental Associates today.