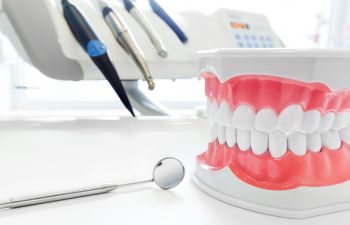 As a gap or space between teeth, a Diastema is most often noticed between the two front teeth, though it can develop anywhere in the mouth. Thus, while a space between a child's two front teeth may naturally close once his or her permanent teeth emerge, there are some cases in which the gap remains. For some, this is a troubling issue that keeps them from smiling with confidence. For others, underlying oral health concerns necessitate repairing the space between their teeth.
Healthline explains that while there's no single cause for a diastema, there are several contributing factors. Of course, the size of one's teeth plays a role, as well as the size of the jawbone. For instance, a gap may form if teeth are too small for a jawbone, and this represents a genetic component. On the other hand, a diastema may form between front teeth if there is extra gum tissue or an overgrowth of tissue bordering the teeth.
While many consider this a harmless reflex, tongue thrusting can also lead to the development of a diastema. For example, when an individual swallows, the tongue should position itself along the roof of the mouth. Yet, when the tongue presses against the front teeth, this "thrusting" movement is strong enough to create a gap between teeth. Finally, periodontal gum disease and inflammation are also believed to contribute to a diastema, as teeth become loose and unstable within gum tissues.
Given the above-mentioned factors, there's not a one-size-fits-all approach to the treatment of a diastema. For a majority of individuals, a space between their teeth is a bothersome cosmetic issue that they opt to have addressed with braces, veneers or tooth bonding. Yet, when gum disease or tongue thrusting is involved, root planing or a deep scaling treatment might be necessary to eliminate the infection and remove tartar from the surfaces of teeth.
Call Kennesaw Mountain Dental Associates Today!
Offering a full spectrum of top quality dental care, Kennesaw Mountain Dental Associates proudly serves residents of Kennesaw and surrounding communities. Because our priority is to provide trusted dentistry in a warm, comfortable environment, our patients feel rewarded by the level of care they receive. If you are bothered by a gap or space between your teeth, or if you suspect that gum disease or infection has impacted your smile, call the team at Kennesaw Mountain Dental Associates today.