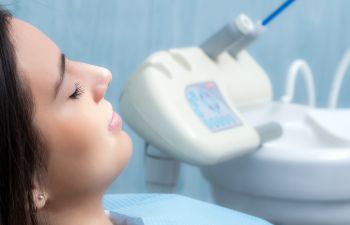 If going to the dentist is not something you want to do, or even think about, we understand. In fact, dental phobia is very common among patients of all ages. Whether you have mild anxiety about sitting in the dental chair or a severe fear of even making the appointment, there is a tool you need to know about. Sedation dentistry is an excellent solution to allow fearful patients to get the dental care they need in a relaxed and comfortable manner. Regardless of the severity of your dental fear, your smile still needs attention.
Contrary to what it may sound like, sedation dentistry doesn't have to involve being "put to sleep" or heavily sedated. There are other options, such as nitrous oxide inhalation (breathing in a colorless gas) and oral conscious sedation (taking a sedative pill before you arrive), that can help patients attain a deep state of relaxation during dental procedures, yet still able to communicate freely. Both options are safe and highly effective. Best of all, nitrous oxide sedation wears off within minutes of removing the mask, which means you are safe to drive yourself home after your appointment.
While we are confident that we can ease your anxiety with sedation dentistry at Kennesaw Mountain Dental Associates, we are also willing to address your specific fears or concerns about the dental office. Dental phobia, or a fear of going to the dentist, can be triggered by a number of different factors, including the following:
Sights, Smells or Sounds of the Dentist (dental drill, latex, etc)
Bad Dental Experience as a Child
Fear of Needles or Pain
Anxiety of Not Being in Control
Severe Gag Reflex
Extensive Dental Work/Lengthy Procedure
While some patients have one of the above reasons for their dental anxiety, others may be too afraid to come to the dentist after a long absence. At Kennesaw Mountain Dental Associates, we use a compassionate and non-judgmental approach. We never want you to avoid your routine checkup due to embarrassment or shame. If you would like to learn more about sedation dentistry, please call our dentist today.